Opportunity Quilt 2019
Stars at Midnight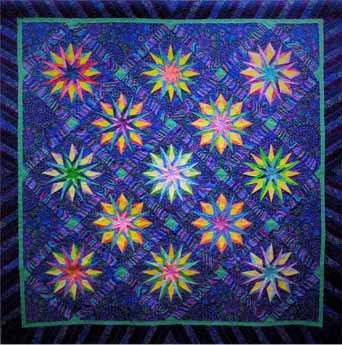 Upcoming travel:
Please call or text me to pick a date. Sue Martin or (916) 261-0920
Date
Where

Volunteers

April 3
Tuesday
Delta Piecemakers, Clarksburg

Shirley W
Karen M

April 11
Wednesday 9:30 am
Tuleburg Quilt Guild, Stockton
Susie S
May 4-6
Friday-setup
Saturday 10-6
Sunday 10-4
Elk Grove Western Festival, Elk Grove Park

Sue M
Marcia R
Karen J
Angela G
Kim H
Debbie Jean H

May 7
Monday 6:00 pm
Pioneer Quilters Guild, Rocklin

Karen J
Vivian R

June 2
Saturday 9 am
Vallejo Piecemakers Guild, Vallejo

Need volunteers

June 18
Monday 12 pm
Delta Quilters, Brentwood

Sue M
Our new Opportunity Quilt is 78" x 78". The design is 13 blocks of the Millenuium Star, paper pieced pattern by Peggy Martin. It was stitched and put together by 14 guild members. The quilting was provided by Shireen Hattan of Folsom, a professional longarm quilter.
The quilt will be raffled off at the guild's general meeting on September 19, 2019 at 8:00 pm.

To see the quilts from prior years, please click here.