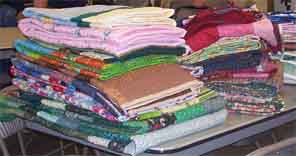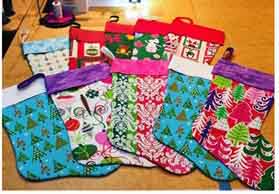 Here is a free pattern for your use:
4-patch quilt
Pillowcases
Christmas Stockings
Many thanks to all of our members who have worked to fulfill our mission statement of being a help in our community by sewing quilts, pillowcases and Christmas stockings. Each month the Community Service committee gathers all of these items and distributes them to worthy organizations in our area. The following is how the quilts, pillowcases and Christmas Stockings have been distributed from January 2017 to January 2018:
E.G. Food Bank- 6 quilts
Kaiser Hosp. Oncology- 11 quilts
Kiwanis Family Home- 29 quilts, 60 pillowcases
River Oak Child Services-21 quilts, 151 pillowcases, 464 Christmas stockings
Ronald McDonald House- 12 quilts, 15 pillowcases
St. John's Program For Real Change- 8 quilts
Shriner's Hospita-l 60 pillowcases
Sutter Child Life- 15 quilts, 63 pillowcases
Weave- 7 quilts
Windsor E.G. Rehab- 44 quilts
Totals 153 quilts, 349 pillowcases, and 464 Stockings
From these numbers you can see that we have made a difference in our community and have brought comfort to many adults and children.
We make quilts in 4 general sizes and they are as follows:
Lap quilts min. 36X40 – 40X40
Teen/Adult, 50X60
Children's quilts 40X50
Thank you for your service to the goals of our mission statement.
Jacquie Kilbert, Community Service Chair