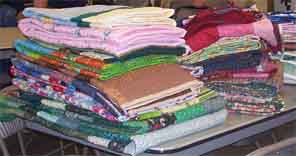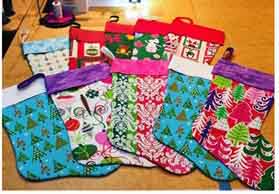 Here is a free pattern for your use:
4-patch quilt
Pillowcases
Christmas Stockings
The last 14 months have been another testament to your generosity by the way of donations and your quilting skills. I wanted to give you a report card on what we have accomplished through your Community Services Committee. The following is a tally of where your donations have been distributed throughout our community:
Elk Grove Food Bank – 55 Quilts
Chicks in Crisis – 8 Quilts
Loaves and Fishes – 52 Quilts
Kaiser South Oncology – 12 Quilts
Kiwanis House – 40 Quilts
Windsor Rehabilitation Center – 20 Quilts
Ronald McDonald House – 26 Quilts
Sutter Life – 77 Pillowcases
Shriner's Hospital – 76 Pillowcases
St. John's Program – 36 Quilts
River Oak Center – 500 Stockings/50 Pillowcases

TOTALS – 249 Quilts, 203 Pillowcases, 500 Stockings

We thank each and every one of you for threading those needles, turning those stockings, figuring out French seams, and stitching in the ditch. I would like to recognize some Guild members for their specific contributions: Sherry Franceschi – 69 stockings/ 18 pillowcases; Linda Ramsey – 39 stockings; Marcia Richards - 39 stockings; Pat Remmert – 24 stockings; Rosemarie Davis – 24 stockings; Jacquie Kilbert - 23 stockings; Karen Cannon – 30 pillowcases; Sylvia Porter – 69 quilts; Marcy Delavan – 50 quilts quilted.

We thank you for your participation in our quest to fulfill our mission statement of being of service to our community. We will have more kits available. If you are making quilts from your stash, the sizes we use are the following:

Lap quilts 40X40, Child's quilt 40X50, Teen Quilt 50X60, Chemo Infusion Quilts, 50X60
The sizes are approximate and will vary by design. Thanks again for your participation.
Kathy Sansone is the Community Service chair.